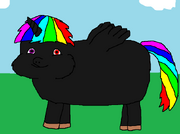 Susana Maria is a parody Mary Sue created by badmunsta. She is noted for being special for the sake of being special, while having almost no personality. She attempts to save fluffies from abusers. However, the abusers are able to argue there way out, because of Susana Maria's moral code. Likewise, because she is an alicorn, the fluffies she tries to save are more afraid of her than their actual abusers.
She is a parody the typical "OC- DONUT STEEL" character type. Her "Mary Sue" attributes include:
being an alicorn
a rainbow mane
black fluff
heterochromia (one red and one purple eye)
a convoluted, yet mysterious, back-story
the ability to actually fly and use magic
the ability to speak normal English. In fact, she surpasses that by speaking Shakespearean English
Ad blocker interference detected!
Wikia is a free-to-use site that makes money from advertising. We have a modified experience for viewers using ad blockers

Wikia is not accessible if you've made further modifications. Remove the custom ad blocker rule(s) and the page will load as expected.